Covenant
Presbyterian

DTC
Sundays at 10:00-11:00am
Connect Over Coffee 9:30-10:00am
​
5400 S Yosemite
Greenwood Village, CO 80111
Join us for Sunday Worship Now via YouTube!
Every Sunday Morning at 10:00 AM
Beginning February 8, providers will be able to vaccinate anyone 65 and over, including continuing to prioritize those that are 70 and over who have not yet received a vaccine. Colorado's PreK-12 educators will also be eligible to receive the vaccine on February 8. Educators should reach out to their employers to sign up for the vaccine.
Governor Polis also announced that the State estimates that close to March 5, frontline workers and Coloradans ages 16-64 with two or more high-risk conditions will also be eligible to receive the vaccine. It's also projected that Coloradans ages 60 and up will also be able to start receiving the vaccine around March 5.
More information about Colorado's efforts to vaccinate all Coloradans can be found at covid19.colorado.gov/for-coloradans/vaccine or call 1-877-CO VAX CO (1-877-268-2926).
The state continues to encourage all Coloradans to do what we know works to prevent the spread of this virus: wear a mask in public, practice physical distancing, wash your hands regularly and avoid large gatherings.
​
Gov. Polis update, Jan. 29, 2021
DONATE
You can donate to help our church!
​
Your continued donations are most appreciated during this time of uncertainty.
​
YOU'LL FEEL AT HOME HERE…
One of the best things about Covenant is the welcome you'll feel just walking in! There is a warmth to our community that is hard to put into words. We are a diverse community of people with a variety of ages, cultures, sexual orientations and backgrounds represented among us. Our greatest desire is to grow together in Christ, so that we can more fully represent the Kingdom of God to the world in which we live.
We would love to have you join us!
​
Warmly,
Pastor Barb
Members, friends, family, visitors...
join us for an opportunity to come together in worship or one of our fun occasions. We would love to see you there.
​
Summer Worship
We are planning on opening for outside worship when the weather warms up, probably in late May! Even though many of us will have had our vaccines, we will still wear masks and practice every precaution. What a long, hard year this has been. It will be so good to begin to gather again!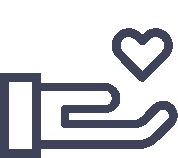 "Whoever is kind to the poor lends to the Lord,
and will be repaid in full."